Coin Guitar Picks are beautiful, handmade art, and are the easiest way to get extraordinary sound out of your instrument. In fact, our Coin Guitar Picks have been used by some of the greatest musicians of our time. The best part is, our picks have incredible, liquid smooth, beveled edges-which don't promote string wear or body damage. Playing with The Original Coin Guitar Picks is the best way to create awesome tone, memorable stage presence, and increase the accuracy of your playing. Our Coin Guitar Picks are owned by more than 50 celebrities (including multiple GRAMMY winners), countless working musicians, and guitarists just beginning to play. Each Coin Guitar Pick comes mounted in a crystal clear, plastic presentation case, and is individually signed and dated by Ruvane, the world's foremost maker of Coin Guitar Picks.
Coin Guitar Picks are compatible with acoustic and electric guitar, mandolin, ukulele, bass, banjo, lap steel and more. They provide a strong, articulate tone without sounding harsh and metallic-due to our unique beveling process.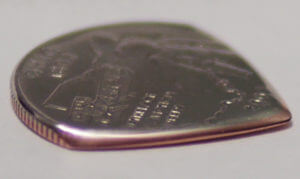 Available in copper, brass, silver, gold, platinum, cupronickel, aluminum, steel and more, each metal provides a unique sound to assist you in creating the perfect tone. We even make picks from casino chips, video game tokens, wooden nickels and more. Our picks are available in many popular sizes, including standard "351" style, smaller "Jazz 3" style, speed size for chicken picking and speed metal, as well as jumbo for bassists. They are available in a variety of thicknesses as well. We can even do custom orders at your request with virtually any coin. We've made Coin Guitar Picks from sentimental family coins, custom pieces for theater and magic-the sky is the limit. Found in all 50 states and more than a dozen countries, our Coin Guitar Picks are truly, "The World's Finest Picks." Please contact us for assistance in finding your perfect pick.